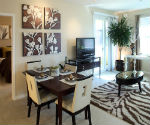 Oakwood - Furnished Apartments in Malibu CA
Tel: 877-817-1486
Oakwood apartments offer all the amenities and comforts of a home away from home. Complete with full kitchen, separate living and sleeping quarters. Close to major highways, shopping, dining and entertainment.


Malibu Island Rentals

In the hills above Malibu. Variety of studios and a 3-bedroom/2-bathroom house, all with full kitchens.
Map


Other Los Angeles Area options: